How a 1935 Florida-Ole Miss game sparked a free speech debate
The story of a college journalist who was fired for *checks notes* doing his job.
The sentence that led to Billy Homa's demise and sparked a free speech debate at the University of Florida wasn't controversial or even particularly insightful. He had traveled to Oxford to cover the 1935 Florida-Ole Miss game as sports editor of UF's student newspaper, The Alligator. He left with a standard story recapping the Gators' 27-6 loss. So standard, in fact, that the paper's top editors didn't even read it before it went to press. 
Shortly after it published, editor in chief Bob Hoag accused Homa of "editorializing" a paragraph in his story and claimed it bothered several members of the team and athletic director Edgar Jones. 
Homa was fired immediately. The scandalous paragraph in question?

"Yesterday's game was a repetition of the Tulane-Florida tilt in that numerous substitutes during the second quarter enabled the Ole Miss first string to score twice."
Not exactly scathing analysis on Homa's part, but Hoag disagreed and defended his decision once other Florida newspapers caught wind of what happened. 
"If the members of the team are satisfied, I don't think the student publication should criticize the coaches," Hoag told reporters. "Therefore, I took the liberty of removing him." 
Besides the fact that Hoag's quote is also a confession he didn't read the story before it went to press (literally his main job), there's also some interesting backstory here:
Back then, the Alligator's editor in chief was chosen by student election. Hoag lost an election to the paper's previous editor, Everett Clay, and only moved into the top spot when Clay left school to work for a tiny paper known as the Miami Herald. 
That meant Hoag was managing Clay's staff, Billy Homa included, so it's not a stretch to wonder if there was lingering animosity toward Clay for beating him in a popularity contest and leaving him with his staff. And though Hoag made clear why he fired Homa, his story started to change almost immediately.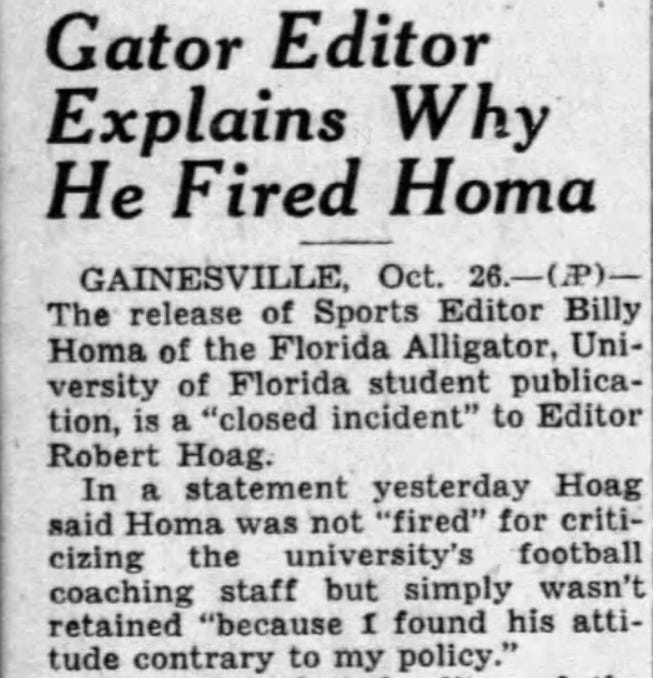 (Note: Every current and former college journalist knows "I found his attitude contrary to my policy" is code for "I'm 20 years old and can hire and fire people; BOW TO YOUR POWER-DRUNK OVERLORD")
The next day, in a magnificent super-flex, Clay sounded off in the pages of the Herald, calling Hoag's firing "unjustified and one of American colleges' most outstanding violation of the right of free student expression." 
Then there's his artfully dropped reminder that Hoag neglected his editorial duties in his first days on the job: 
HOAG, YA BURNT.
Then there was this minor development, which suggests Hoag straight-up LIED about Florida's athletic director being mad in the first place and supports Clay's claims that Hoag was merely playing politics for his personal gain.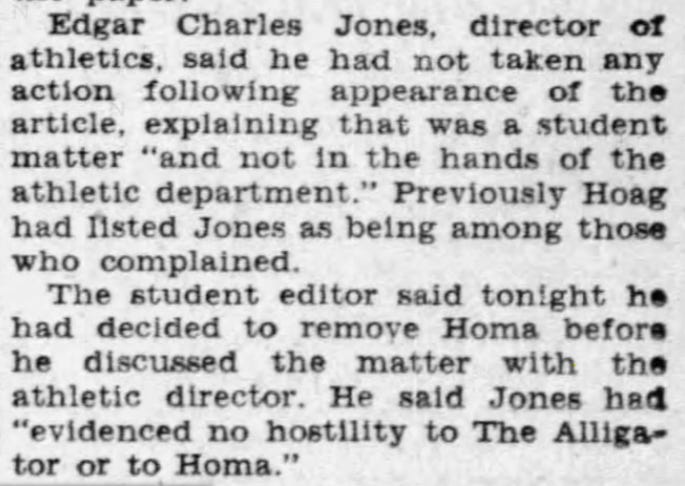 The following week was Florida's homecoming game against Maryland. Billy Homa stood outside Florida Field for most of the game, unwanted in the press stands and unable to get a seat in the alumni-packed stadium, all because he told an uncomfortable truth about a struggling team. 
The sophomore made it inside in time to watch the Gators lose in similar form to their losses at Tulane and Ole Miss, no editorializing necessary. Boos from alumni and frustrated fans nearly drowned out the announcer trying to assure the crowd the "thrills offered you at Florida Field this afternoon have been worth your trip."
"The old grads, friends of the university and others in Florida Field stadium Saturday afternoon voiced their disapproval," wrote Herald columnist Dinty Dennis. "Whether it was too many substitutes, lack of spirit, poor coaching, or whatever the excuse, they were not satisfied with the 1935 Gators." 
(There was no mention of this in The Alligator.)